With fitness awareness at an all-time high, we are conscious of our health. Many among us have a fixed workout regime that we stick to when home. However, travelling is no excuse to give up your fitness routine. Here are eight ways in which you can keep in shape when on the move
Run
According to seasoned travelers , the best way to explore a city is on foot. What better way to mix fitness with pleasure than an early morning or an evening run! Not only can you fit in exercise, but you also get an opportunity to explore and see things that you would have otherwise missed.
Yoga
Yoga is a popular the world over for its benefits. It is relaxing as well as beneficial for your mind as well as your body. It is effortless to find a yoga class around you, whatever city you may be in. Also, you can fit in a session wherever you are; all you need is a mat and a knowledge of the basic poses, and you are good to go.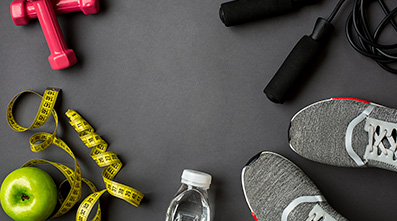 Take the stairs
This might seem simple, but it is an effective way of staying fit when you are travelling and even when home. It packs in cardio as well as strength training and can be done inside or outside. Be it a famous monument, a building, a hotel or steps carved out into the mountain; set a time limit and start running up and down. It is beneficial for both your legs as well as the lungs.
Hike
Hiking over the mountains or the countryside is relaxing and allows us to breathe in the fresh air. The scenery that you can witness along the way is an added benefit. All you need is a pair of good shoes and appropriate clothing, and you are good to go.
Walk
Walk short distances instead of taking public transport or taxi. This way, you can escape the traffic snarls as well as other delays. Take a map and don't shy away from asking people for directions. You can also explore shortcuts when on foot.
Swim
Swimming is an excellent exercise to strengthen your core. Almost every hotel has a swimming pool. You can opt for a swimming session early in the morning. If you are camping and there is a stream or a river nearby, head for a short swim in it. It has the additional benefits of refreshing you
Hotel room workout
If you are put up at a hotel for a business meeting in the middle of the city, you can follow this simple high-intensity work out that won't take much time either.
1. Burpees
2. Sit-ups or squats
3. Push-ups
4. Mountain climbers
5. Planks (45 seconds or 1 minute)
6. Crunches
Do a set of these six exercises in repetitions of 20s, and your fitness needs are attended to.
Many hotels have an in-house fitness centre where you can easily fit in a workout session at the gym. Apart from this, eating healthy, not bingeing on unhealthy food and drinking a lot of water is very important to stay fit when on the move.