Who would love that extra dose of carbon dioxide in that compact arena of men and women breathing down your neck, the monotonous muscle cramping routine; definitely not a very appealing one. Simple lifestyle changes can help you stay fit and healthy.
1.Shake that body
No sight is more impressive than a person who makes the right move on the dance floor. Dancing is believed to be the best fitness activity and stress reliever. It increases flexibility and improves body posture. It is a total body workout. You can always spice up your Saturday to switch and learn new forms like salsa, swing, ballet, jazz or any dance form for that matter.
2.Gear up your Game
Ever played with those little ones in the park or cuddled and played around with your lovely pet. Get yourself all pumped up and energized anytime at your convenience with a Ping-Pong table in-house or a basket in the backyard. If you are an avid video gamer, then turn your fun into fitness. Video games involve you in a variety of fitness and training activities. Play some laser tag games and bust out all your stress along with the bonus of reduction in calorie count.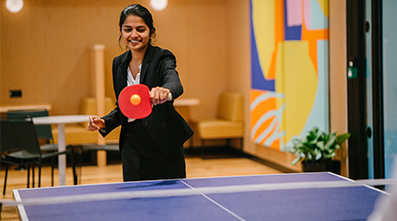 3.Lace up your sneakers
Take a walking tour of your city or join the walk groups online to stay focused and competitive. How about taking a small walk around the street instead of those small walks to the fridge? Take your pet out for a long walk or take stairs instead of an elevator or ride a bicycle to work, you have so many choices. Walking or these other forms of cardio suggested reduces the risk of stroke and improves your cardiovascular and pulmonary fitness. To break the monotony try different styles of walking such as reverse walking, zigzag walking, race with your partners or jump with your kid after every ten steps. Customize and design your new style of walking to make it more interesting. You never know, you can become a youtube sensation too.
4.Fall in love, we mean with the floor (wink)
Ditch your high maintenance sofa sets and fall in love with the carpet. Increase your body's contact with the floor. When at home or wherever possible try and 'go Indian'; consume your meal while sitting down instead of a dining table. Sit down and work. Do the home maintenance and chores all by yourself etc. Each time you stand up, you put all your body muscles to work and stretch. It is an easy and great way to stay fit without actually having to do much.
5.Interpret your body's signals right
It is not a style to work out, but all goes in vain without you understanding the need of your body. Your body is 70% of what you eat and 30% of what you do. Eat right and drink a lot of water. More often than not we believe we are hungry but the truth is we need water. The best way to stop you from indulging in unhealthy, unwanted eating is to drink more water, keep those unhealthy snacks out of sight, and eat fiber-rich food instead.
We hope these interesting yet effective ways would help you to stay fit and healthy, do try and share your experiences here.