Life Insurance plan is an important part of preparing for a secure financial future. Here are some things that you need to know about the types and benefits of purchasing a Life Insurance policy.
What is Life Insurance?
It is an arrangement between a financial institution and an individual that guarantees compensation for loss of life in return for a specified number of periodic payments. The nominee that the subscriber chooses gets the agreed-upon sum in case of the insurer's demise. Let us now look at the types and benefits of a Life insurance policy.



Types of a Life Insurance plan
Term Insurance plan
As the name says, a Term Insurance plan is valid for a fixed term. You are required to pay premiums only for that period. These plans do not have maturity benefits, and hence the premiums you pay towards them are relatively lesser. This policy is beneficial only for a limited period. It is best suited for those looking to plan for an upcoming event in the near future like a child's education or marriage.
Endowment policy
An endowment policy is similar to the Term Insurance policy. The only difference between the two is that the endowment plan carries maturity benefits. You are paid a lump sum amount in case you survive for the period the policy is active.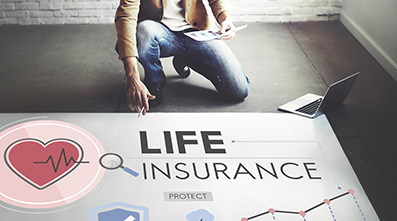 Unit Linked Insurance plan
These plans offer you the opportunity of wealth creation along with a life cover. These plans come with an investment feature built within. The ULIP premiums that you pay towards these plans are invested in a financial instrument of your choice. This investment can reap the rewards as per the market condition. Also, you can withdraw the amount accumulated partially within the policy period.
Money back policy
Almost similar to endowment plans, the only difference is that it offers survival benefits that are distributed proportionately over the policy period.
Whole life policy
This policy does not have a fixed term. It is active for as long as the insurer is alive. The survival benefits are passed on to the nominees, in case of the insurer's demise. This policy allows you to withdraw the amount partially. You also have the option of borrowing against the plan.
Annuity/Pension plan
Annuity plans
are mainly directed towards those saving up for retirement. Under this plan, the amount accumulated as premium is disbursed to the policyholder as a periodic stream of payments or a lump sum as chosen by the insurer.
Benefits of a Life Insurance plan
Covers risk
Life insurance provides your family monetary compensation in case of your demise within the policy period. This helps protect them from financial hardships and risk in your absence.
Can be customized
Insurance companies customize plans for every user, right from the sum assured, to the amount and frequency of premiums. In addition you can even choose riders to add to the plan.
Has a host of features
A Life insurance policy comes with riders that can also cover hospitalization and other medical expenses. There are also other types of plan that are structured as savings plan. These plans help you save and can assist in wealth creation. Besides there are other plans that have an in-built investment feature. These plans invest your money in the market in instruments of your choice apart from offering you life cover.
Offers tax benefits
Life insurance policies apart from offering you protection can also help you in
saving tax
. The premiums that you pay towards your Life Insurance plan are tax deductible under section 80C of the Income Tax Act 1961.