Life Insurance has become a hot commodity especially after the passing of the Life Insurance of India Act in 1956. Life insurance secures the family's future in case of the insurer's demise. The fact that you are not leaving your family behind in any financial duress adds to your peace of mind. Life Insurance plans do not come with an age limit. Let us look at how it is going about purchasing a Life Insurance at every age.
The 20s
The early 20s are characterized by a mix of college graduates as well as youngsters working their first job. Their thoughts range from earning a good salary to getting their first car or investing in their first house. Also, the majority of youngsters are single and have no dependents. Hence, purchasing a Life Insurance plan is usually the last thing on their minds. However, this is the best age for getting a policy. Here's why
- Premiums are fixed over the entire tenure of the plan. Starting early can help you avail lesser premiums, which are constant.
- You can start planning for your retirement right from this age itself.
The 30s
It is the age where a majority of the population is settled with a stable career and decent savings. Also, a majority of the population in this age group is married. So this is when most of us start thinking about Life Insurance to secure our families. This is when personal needs take a backseat, and people start thinking about their family's future. The 30s is an ideal age to invest in a life insurance policy, as the individual is free from other financial obligations that come up at later stages.
The 40s
The 40s is when the majority of those who were reluctant in the beginning, look towards getting insured. For the breadwinners of the family, worries start creeping in, and they realize the importance of life insurance. However, this is the time of maximum financial duress, with children's education and in most cases, dependent parents to be taken care of. A plain term insurance policy is the best investment at this age, as risky aspirations might negatively affect your savings.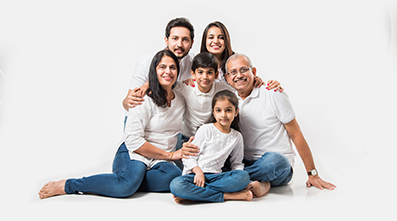 The 50s
The 50s is an age where the children are pursuing higher education or starting their careers. The financial requirements are low, and the needs are few. Getting insured at this age might be unheard of. But, if you are not insured, this is a step in the right direction. There might be debts and mortgages as well as liabilities in your name. You would not want your dependents to bear the brunt of these in case something were to happen to you. Hence it is wise to opt for life insurance. A retirement plan also makes sense in addition to the regular term plan. It is important to get insured at this juncture to ensure peace of mind for the rest of your life.
In short, the earlier you start, the better. However, it is never too late to start. So do not wait. Get your Life insurance policy today!