Yoga is an ancient practice that builds strength and awareness and brings together the mind and body. It includes breathing exercises, meditation and asanas or poses that stretch and flex various muscle groups. These asanas are designed to encourage relaxation and reduce stress.
The importance of yoga cannot be stressed enough. There are different kinds of yoga practices. There are beginner classes in every style, and the modifications in every yoga pose make it possible for anyone to start. So whether you have a sedentary lifestyle or you're a professional athlete, size and fitness levels do not matter.
There are many advantages of yoga. Practising yoga is said to come with many physical and psychological wellness benefits. Read on to know more about yoga and its benefits.
Physical Health Benefits​
The relaxation techniques used in yoga can reduce chronic pain, such as lower back pain, arthritis, headaches and carpal tunnel syndrome. Yoga also helps lower blood pressure and reduce insomnia. Other physical benefits of yoga include:
Prevents Heart Diseases - Practising yoga may help improve your heart health and reduce several risk factors for various coronary heart diseases. Regular yoga practice can lower blood pressure, pulse rate, BMI, cholesterol levels, and circulatory strain. Yoga also improves vascular well-being by diminishing changes in the veins that add to coronary illness.
Reduces Chronic Pain - Several researches and studies suggest that practising yoga can help reduce many types of chronic pain in conditions like carpal tunnel syndrome and osteoarthritis. Yoga is claimed to be better than exercise-based recuperation for lower back pains, as well.
Improves Flexibility and Balance - Through the use of specific asanas or poses yoga can help increase the flexibility of your body. Regular yoga practice helps improve balance and mobility in older individuals.
Increases muscle strength - Yoga is an excellent addition to your exercise routine for its strength-building benefits. There are specific poses or asanas in yoga that are designed to increase strength and build muscle. By practising yoga regularly, you can experience a significant increase in upper body strength and endurance. It also aids in weight loss and decreases body fat percentage.
Improves respiration​ - Yogic breathing, also known as Pranayama, is a practice that focuses on controlling your breathing through various breathing exercises and techniques. It helps increase the vital capacity of the lungs and keeps asthma and other lung diseases at bay.
Mental Health Benefits​
Apart from physical benefits, the incorporation of meditation and breathing yoga practices can help improve your mental well-being. Practising yoga regularly can create mental clarity and calmness, increase awareness, relieve chronic stress, relax your mind and dramatically improve your concentration. Some of the other yoga benefits for your mental healthare listed below: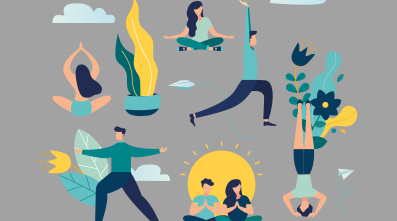 Reduces stress - If you are wondering how to reduce stress, yoga is the answer. It is a well-known fact that yoga promotes relaxation, and hence you can turn to yoga for stress relief. Once you start practising yoga regularly, you can find a significant decrease in the secretion of cortisol, the primary hormone responsible for stress. It leads to an improved quality of life and mental health.
Relieves anxiety - Many people feel on edge every now and then. Yoga can help you cope with feelings of anxiety and fear. Yoga is also proven to help reduce anxiety and Post-Traumatic Stress Disorder (PTSD).
Fights depression - Yoga is an effective treatment for depression. Several studies have found that it acts as an anti-depressant due to its ability to decrease levels of cortisol, the stress hormone.
Promotes sleep quality - Incorporating yoga into your daily routine will enhance your sleep quality as it increases the secretion of melatonin, a hormone responsible for regulating sleep and wakefulness. As a result, you will fall asleep faster, sleep for longer and feel well-rested in the morning.
Stimulates brain function - As per a few studies, regular yoga practice can improve your mind's capacity and lift vitality levels. It also enhances the speed and precision of working memory, mental adaptability, task exchanging, and data review capabilities.
These benefits make us realise the importance of yoga. However, these are just some of the advantages of yoga. To truly realise its benefits, you must practice yoga religiously and regularly. You can take help of yoga teachers or look for help online. So what are you waiting for? Pick up your yoga mat and get going!