We list the common causes of obesity – and what you can do about it.
Obesity is a growing problem all over the world. In the list of obese countries, India ranks high with a worryingly large number of children and teens also clocking in. Why has obesity become such a problem? More to the point, what causes it and what can be done about it? Let's find out.
* Overeating:
Overeating is not a function of a lack of willpower, which leads one to eat all the time. Overeating may be caused by a hormonal imbalance, or a dip in your mood, or stress, or even genetics. Some people are naturally predisposed towards eating larger portions of food, but if their metabolic profile does not match the food intake, then a lot of the food will simply be turned into fat.
Crack it: Have small meals every three hours instead of three big meals in the day. Your digestive system can pace itself and your metabolism will increase.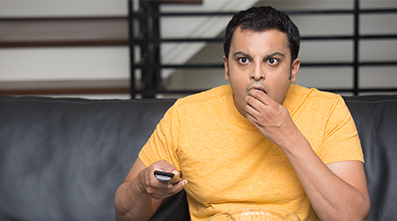 * Junk food:
Junk food is rich in saturated Trans fats, and packed full of preservatives that give it a longer shelf life. Also, it is designed to be as tasty and addictive as possible. Full of empty calories, high on salt, oil and sugar, it increases the fat around your waistline, thighs, arms, back, etc.
Crack it: Get a diet plan that aligns with your lifestyle and activity levels. Stay away from all junk food! Seasonal fruit and vegetables, as also herbal teas will purify your system.
* Lack of exercise:
Lack of meaningful activity is the primary cause for the body to become stiff, sedentary and fat. The benefits of exercise cannot be emphasized enough, and it is especially important for those battling obesity. Even one hour of daily exercise can help you shed the flab and lose the unnecessary inches.
Crack it: Start with a 15-minute walk, then step it up to 30 minutes. When your stamina increases, join an exercise class about 4 times a week to burn fat faster. Meanwhile, you can take up swimming for a comprehensive cardio workout without traumatizing the joints. But do consult your doctor before you take up any exercise.
* Insulin resistance:
It's a curious cycle between obesity and diabetes. While some doctors claim that obesity may cause diabetes, others opine that insulin resistance may be the cause of excess weight. Insulin is a hormone that regulates energy use by burning fat. However, when you develop insulin resistance, the fat cannot be burnt efficiently, and insulin levels rise rapidly – leading to the body storing even more fat.
Crack it: Get yourself tested for diabetes if the disease runs in the family. A lipid profile will also help your doctor establish a link between your cholesterol and fat reserves.
* Processed sugar:
It is severely addictive and irresistible, but processed sugar does more harm than good. It interferes with the body's insulin production, the functioning of the liver and kidneys, and the processing of food in the intestines. More to the point, it promotes excess fat reserves in the body.
Crack it: Ditch sugar, period. You can try substitutes like stevia, jaggery, honey and dates to sweeten your food.