Despite your best effort, you are unable to make time for exercise or even sleeping long hours each night. Your hectic work schedule robs you of the time to work out, relax, chat with friends and family, or even eat at your own pace. You worry about your health and how you can get fitter in the face of a time crunch.
Help is at hand for those who seek it – we've compiled a list of 5 office exercises you can do without eating into your schedule. You don't need to change your outfit or invest in a yoga mat or even buy any fancy equipment. Just square your shoulders and off you go –
1 Start with a stretch.
. You sit in the office for long hours working on your laptop, reviewing reports and presentations, and even eating at the work terminal to save time. But all the sitting around puts tremendous pressure on your neck, shoulders, back, hips and knees. Alleviate joint stiffness with a simple stretch: lace your fingers together and raise your arms straight up towards the sky. Now extend your legs straight out. Hold this pose for 5 seconds, exhale, then relax. Repeat 10 more times, each time stretching both arms and legs a bit more. Stretching promotes better blood circulation.
2 Shrug it off.
Your tired shoulders need a break, but you don't have the time to lay down. Sit straight in your chair and keep your arms at your sides. Now raise your shoulders towards your ears, and hold for 2 seconds. Release, then repeat 15 more times. Shoulders shrugs remove tension from the shoulders and make them stronger. You can even hold heavy books in each hand to add tension to the shrug.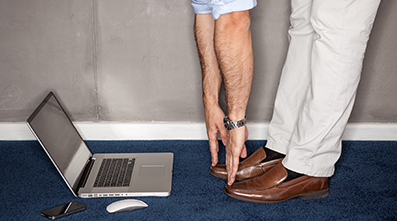 3 Open out the chest.
The chest and back keep your upper body in balance, but too much slouching in the chair can ruin your posture and give you a backache. Here's how you deal with it: extend your arms out at shoulder level, holding the palms facing outward. Slowly bring both palms together, keeping the shoulders straight. This opens up the chest muscles and gives the back a gentle workout. Add light weights if you want to a more intense chest press.
4 Hug your knees.
Show your back and hips some love – by hugging your knees! Sit in your chair, and bring your right leg up as close to your chest as possible, hugging it to your body. Now repeat with the left leg. This exercise works your core and back muscles.
5 The standing toe touch.
Stand up straight and bend down slowly to touch your toes. Don't exert yourself if you can't touch your toes right away, but bend just enough to create tension in your hamstrings. Hold for 5 seconds, straighten up, and repeat 5 more times.
You can explore more office exercises after you master the ones listed above. It's a great way to stay fit at work!