We suggest 6 simple tweaks to your lifestyle that you can make for increased savings.
Money is an essential entity in our lives, but not every person is equally adept at managing their finances responsibly. If you feel that you are spending more than saving, we have 7 money hacks to set you right –
1 Save actual Rupees, not percentages.
Have you ever been to the discount aisle of the supermarket and seduced by the offers of 50% off or 40% off on groceries and other items? It is a nifty trick most retailers use to lure shoppers with the promise of savings. But what would you rather pick: save 10% on a Rs 100 item (which amounts to Rs 10) or Rs 25 on the same item? Always opt for actual Rupee savings, because the percentage savings may fool you into buying things without much money saved.
2 Stop impulse buying.
Impulse buying wastes a lot of money. The next time you pass by a store and see a gorgeous dress, don't rush in to buy it. Ask yourself: Do I need it? Is the price tag justified? How many times am I going to use it? Come back later, maybe after a couple of days. Don't buy something unless there is an actual need for it – and see how much money you save.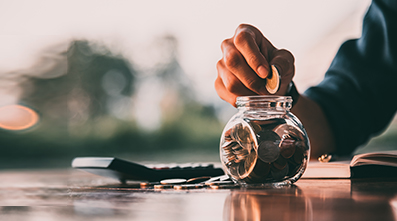 3 Curb unnecessary expenses.
A big factor in creating savings is spending less. While this seems quite elementary, it takes some digging into your monthly expense sheet to find areas of unnecessary expenditure. You will probably find that most of these expenses pertain to eating out often, partying many times a week, booking expensive holidays, driving to work in your own car daily, etc. Curb these to find out how much money you can save.
4 Monetise your talent.
Every person has a talent that they can use as a side gig. You could give music lessons in the local school, or take up part-time writing work, or be a dog walker for the neighbourhood. There is always a way to make money from your passion to create a good side stream of income
5 Travel in the off-season.
Have you been taking expensive holidays in the peak tourist season and staying at 5-star hotels? Compare those expenses to a budget trip to the same destination in the offseason – you would spend at least 50% less! Off season travel saves money and also gives you a better feel of the place since there are fewer crowds.
6 Pay digitally and not in cash.
One of the biggest favours you can do yourself is to use your debit card to pay for things instead of paying cash. Cash has a way of disappearing quickly and it becomes difficult to track it as well. But digital spending leaves a record and you can find out exactly how much you have been spending and where.