Term insurance is considered the most basic form of insurance which provides financial protection to your family at affordable rates. The premium is to be paid only for the fixed term for which the insurance policy is taken. With term insurance, you get a significant life cover at a relatively lower premium. In the event of the death of the person insured, the nominee will get the benefit amount.
You can buy a term insurance plan through an agent, which is considered asan offline term insurance plan.If you are purchasing a plan yourself over the internet, it is termed as an online term insurance plan. The online vs offline term insurance debate has been raging on since a long time. Let us look at the difference between online and offline term insurance plans.
Online vs offline term insurance plans
| | |
| --- | --- |
| Online Term insurance plan | Offline Term insurance plan |
| Easier to purchase | Comparatively tedious to purchase |
| Direct dealing with the insurance company | Involvement of an insurance agent |
| Comparatively cheaper | More expenses involved; thus, it is costlier |
| Only death benefits. Additional riders like critical illness cover, disability benefits and accidental death rider come at an extra cost | Additional riders like critical illness cover, accidental death benefit, and disability benefit |
| You have to do everything yourself | Everything is taken care of by the agent; thus, involves lesser hassles |
Now, that you know the differences, let us discuss some advantages of both online and offline term insurance plans.
Online term insurance plans​
Getting an insurance policy might be one of the most confusing tasks, but when you go for an online insurance plan, you can easily compare it with the offerings from other companies. This helps you analyse better and choose a plan that perfectly suits your requirements. Another plus to consider in an online method of purchase is that you are directly purchasing the insurance policy from a well-established brand. As a result, there is transparency. This eliminates the chances of an agent misrepresenting the facts and not conveying the terms and conditions in their entirety. Here are a few advantages of online term insurance plans.
Flexible: When we talk about online vs offline term insurance plans, the online ones are considered to be more flexible. With no agents involved, you have to do all the research, go through the terms and benefits, and fill in the details of the policy all by yourself. This ensures that you take extra precautions and provide the correct information. Whereas, in an offline term insuranceplan,you rely on an agent to complete all the formalities on your behalf. A single error by the agent at the time of filling the details can cost you a great deal in settlement of your claims.
Less Cost: As there are no mediators or agents involved, the overall cost of getting a term insurance policy online is less. It also eliminates other costs and commissions in the name of the processing fee that an agent is entitled to.
Zero Fraud: You can go through all the terms and conditions listed on the company's website or app and decide for yourself if it's worth getting the policy or not. You can also document those terms and conditions for future reference. This transparency eliminates the risk of fraud. Whereas in the offline term insurance plan, there is a high possibility of the agent trying to manipulate the facts and terms and presenting them to you in a way that you like them and decide on buying the policy.
Higher Settlement Ratio: Settlement ratio is the figure of the company's reputation in getting the claims settled. The ratios provided by the online aggregators are based on actual customer feedback and reviews, and hence the figures are not manipulated. This is an important factor to consider when you are planning to buy a term plan from a particular company.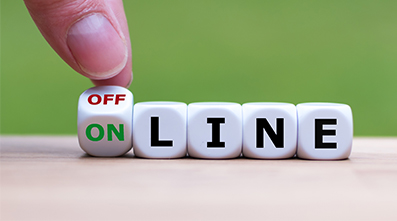 Offline term insurance plans
Just like online term insurance, there are many advantages to getting an offline term insurance plan. Let us have a look at some of these advantages.
Higher value: The insurance companies may sometimes make click baits that assure higher claim cover amounts to lure a lot of customers. In such a scenario, opting for an offline term insurance plan makes more sense.
No hassle faced by you: When you opt for the offline mode, the agent will get all the things done for you. You will only have to deal with the agent, and they will go through all the legal formalities and the tiresome documentation work needed for the application process.
Benefits like illness coverage: The online insurance plans only offer death benefits. The accidental death coverage is available but costs more.Offline term insurance plans offer riders like the Critical illness coverage, disability benefit and accidental death benefit amongst others, as a part of the policy, unlike online term insurance plans.
If you're in a dilemma over buying term insurance online vs offline, the above points can surely guide you. Analyse your needs and decide for yourself which plan you should go for. Remember to compare the policy with others, and go through all the terms and conditions before you purchase it.