There are only a handful of occasions in a year when one can rejoice fathers and their importance in a child's life. Father's Day is one of these occasions. This day is a reminder for families around the world to celebrate their paternal figures and tell them how loved they are.
Humaare Papa
Their beloved papa is an irreplaceable figure in a child's life. He is the one who assumes the role of a provider and a caregiver, alongside the mother, and ensures that his
child has a secured future
.
Every papa ki kahani may start in a similar way, but each one is special. His joy knows no bounds. He is also acutely aware of all the responsibilities that follow, one of which is understanding and meeting the wants and needs of his little bundle of joy.
But a father is more than a provider. He is a support system for his family, financially and morally. He takes care of them through all the highs and lows of life, while also working towards fulfilling his own dreams and ambitions.
This Father's Day, with our Papa Hai Na campaign, SBI Life Insurance honours the dads who don't give up on their dreams while fulfilling their parental responsibilities. In our thoughtful short story, we see with a father who shows the courage to follow his dreams of becoming a writer.
He starts by publishing his book but fails to get it distributed. Month after month, he tries and fails. However, he does not give up. Through his daughter, life rewards him with the inspiration to turn adversity into opportunity. She makes him realise that his stories are far more effective when he is the one telling them.
Struck with this inspiration, he dives into the world of podcasts and turns his printed stories into audio recordings. From being a writer, he steps into the shoes of a host and narrator. Fuelled by his passion for storytelling, he turns his dreams into realities. At the same time, we see that he is an ever-present father and husband who knows how to keep his family secure. As mentioned above, he is aware of his roles and responsibilities as a parent.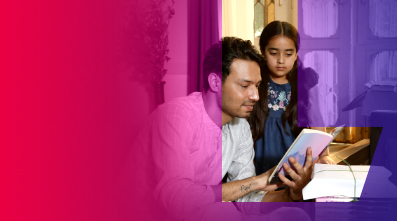 Neither does the father let his dreams come in the way of taking care of his little one (Apnon Ke Liye), nor does he let the responsibilities of fatherhood become such a burden that he has to let go of his dreams (Apne Liye). Instead, he strikes the right balance in life and brings home happiness for himself as well as his daughter. A true example of Apne Liye, Apno Ke Liye.
Papa Hai Na
SBI Life Insurance hopes that the story and message shown in its heartfelt video can be "har papa ki kahani". SBI Life Insurance also offers policies that can help young fathers achieve this balance. With our child plans, fathers can rest assured about their child's future and go after their own dreams. Currently, SBI Life offers two child plans to choose from – SBI Life -
Smart Champ Insurance
and SBI Life- Smart Scholar.
With these plans, you can write your own success story alongside that of your child. SBI Life Insurance wishes you a Happy Father's Day and encourages you to choose what's best for your future and that of your child.