Raising a child is a challenging task; raising a child single-handedly more so. There are many obstacles that a single mother needs to overcome. You need to fill in the shoes of both the parents. You also have to work to support your needs, while ensuring that your child gets a proper upbringing.
There is no guide on how to be a good single mother, but you have to be adept at juggling several responsibilities. In addition to the everyday challenges, one of the most important things that you need to take care of is your finances. In fact, having your finances in order can help ease your life and leave you free to focus on your other responsibilities.
We list some useful financial tips for single mothers.
1. Analyse your requirements
You need to plan thoroughly to succeed as a single mother. First, take into account your household expenses. These can include providing for you and your child and any other dependent you may have, fulfilling your household expenses, and saving for unexpected expenses. You would also need to factor in your debts and monthly EMIs. Once you arrive at a particular sum, add some extra amount to it for emergencies. Check whether your job or business is helping you achieve this every month. If not, you would need to start thinking about getting a new job or working part-time.
2. Invest in yourself
After you have analysed your requirements, it is time to assess whether the career that you are pursuing is sufficient to meet your life goals or do you need to be thinking about changing it.
Whatever is the case, investing in yourself is always a good idea. If you already have a promising career, consider investing in it so that you grow and can provide better for you and your child. You can also consider switching careers and starting something new, which can help give you a better income and also allow you more time with your family, thus helping you balance your responsibilities.
3. Create a safety net for your child
This is one of the essential single mother tips for securing your child's life. Meeting the requirements of your child is amongst the most critical responsibilities of a single mother. As a single mother, you need to take care of the educational expenses, the entertainment expenses and save for their future. Consider investing in child plans that can help secure your child's financial future. It can help provide for your child's education and secure their future.
Also, you need to ensure that your child is well-cared for in case something happens to you. An insurance policy provides a financial cushion that can help ease the emotional trauma to your child. It also protects them from any financial duress that may come from your pending debts and obligations. You can opt for a child insurance plan, a term insurance plan or a life insurance policy to secure your child's life after you.
4. Plan for yourself
Another essential financial tip for single mothers is not to ignore yourself and your needs when planning for your child's future. Plan well ahead to realise your life goals. Apart from savings, you can also turn towards financial instruments like mutual funds to prepare for your future. You can opt for loans to buy a house or a vehicle. However, plan how you will be repaying the loans to ensure that they do not cut into your other responsibilities, and you do not have to face unnecessary financial duress.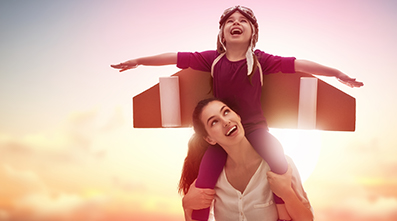 5. Be an example
You need to lead your child by example. Involve them in all the financial matters. Teach them the basics of finance like saving, the concept of interest and investment. Let them handle their finances under your watch. Let them manage their allowances to give them practice. Make your children nominees in every scheme. If they are young, you can appoint a guardian to stand in for them till they are eighteen. It is also advisable to make a will for your child to prepare for any eventuality.
6. Ask for help
If any of this seems too overwhelming for you, you can enlist the help of professionals. A CA can help you in filing tax returns and also give suggestions on how you can save taxes. A financial planner can help better align your financial planning with your requirements. While they may charge a fee, it is advisable, as they have more experience and knowledge about the field. They can make planning for a secure future for you and your child easier.
Raising a child by yourself is hard enough. However, you can rise to the challenge by proper planning and keeping these financial tips for single mothers in mind. While the task can be overwhelming, you can sail through having your finances in order and having a support system in place.