Indians love travelling during holidays and the number of travellers has been rising in recent years. According to a report published by Google India, in partnership with Boston Consulting Group (BCG), by 2020, India's domestic travel market is set to become a $48 billion industry.
However, what is surprising is that most travellers in India still don't buy travel insurance before leaving home. Awareness regarding the protection provided by domestic travel insurance policies is still very low. This is non-negotiable protection that will stand the traveller in good stead when the unexpected does occur.
How to Find the Best Travel Insurance Plan
Buying a travel insurance policy is a simple process that needs you to analyse your requirements while evaluating the risks you are likely to face during your trip. With the ease of being able to buy such protection online, the process is further simplified. You even have online calculators that can help you judge the amount of coverage you need.
When comparing between various policies, make sure to check what all it covers, the timeframe of coverage, the deductibles, payment options, PPO networks, claim settlement ratio, discounts, etc. This will help you zero in on the most suitable plan.
Questions that Need to be Answered
Here are some very important things that need to be considered before buying a plan:
• How frequently do you fly in a year?
• What is the average duration of the trip?
• What is your travel destination?
• What is your trip's itinerary? Does it include any sporting or adventure activities?
• Do you have any medical history?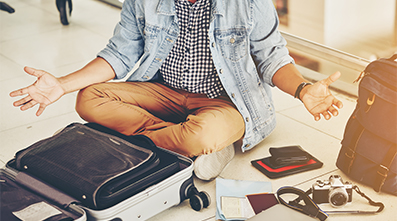 Some of the key features of a good policy include:
Here's What a Good Travel Insurance Policy Looks Like
• Adequate Medical Coverage:
The policy should cover the medical expenses that you might incur during an emergency, like an accident or sickness during the trip.
• Repatriation Coverage:
In case you need to return to your home county due to medical reasons, the policy should cover the costs of emergency repatriation.
• Lost Baggage/Passport Coverage:
Loss of luggage or passport is one of the biggest issues during travel. A good policy will compensate you for the loss by reimbursing the cost of the lost baggage or getting a new passport after you have filed the claim.
• Flight Cancellation/Curtailment or Delay Coverage:
A cancelled flight is sufficient to throw your trip out of whack. Don't worry. With trip cancellation coverage, you can get reimbursed for the non-refundable pre-paid expenses, including travel and accommodation costs, if the reason for trip cancellation is illness or injury of the insured, family member, travel companion or business partner. You are also eligible for coverage if you cancel the trip due to a natural disaster at your travel destination.
• Adventurous Activities Coverage:
Are you going on a trip just for sightseeing or do you have any adventurous activities like water sports, trekking, skiing on the itinerary too? Adventurous sports increase the risk of mishaps. Most policies require you to pay a little extra to get special coverage for such types of activities.
Make sure you get travel insurance coverage only for what you need, else you'll end up paying an excess premium.